In 2022, Microsoft began the process of acquiring Activision Blizzard for $US68.7 billion to boost its metaverse strategy, while Elon Musk acquired Twitter for $US44 billion in a more hostile takeover.
These are just two examples from the past year, but neither come close to the biggest merger and acquisition of all time, which occurred between Vodafone and Mannesmann and was worth $US202.8 billion. This resulted in Vodafone becoming the world's largest mobile operator at the time.
Contents:
Mergers and acquisitions
A successful merger of two companies, or the acquisition of one company by another, presents many varied opportunities for this new business. Some of these include the ability to enter new markets, access new technology, increase revenue, reduce costs, and so on.
However, not all M&As are successful. In fact, between 70% and 90% of all mergers and acquisitions fail. The biggest reason for this may be people-related, but there are also many other factors involved, such as overpaying for a business, unrealistic expectations, a badly planned merger and acquisition supply chain integration process, and more.
Mergers and acquisitions supply chain integration lifecycle
This supply chain integration process includes many different aspects, including the end-to-end supply chain of both companies, and should be run by a team of supply chain managers. These managers have a duty to integrate the best of both legacy organizations' supply chains while keeping the business running smoothly. To do this, they need to create a competitive advantage by:
Harnessing the expertise, innovation, and best practices of each supply chain.
Standardizing procedures, systems, regulations, and performance indicators (metrics).
Investing money in expanding and building the supply chain to accommodate the growing business.
So, supply chain managers play an important role in the M&A process. When supply chain managers are included in all steps of the M&A process, other team members will be able to lean on them for insights that might otherwise be missed.
Such insights include integrating legacy supply chains with minimal impact on customers, partners, and employees, minimizing post-deal operational risks, and delivering differentiating results to achieve value throughout the deal.
Although supply managers should be involved in the whole lifecycle of the project, there are three phases in particular where the focus on supply chain synergy in mergers and acquisitions is most important. These can be seen below.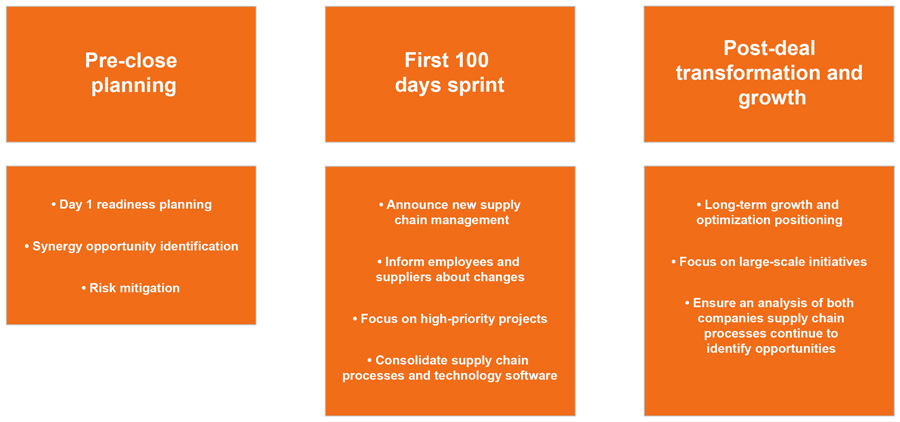 Mergers and acquisitions supply chain integration-focused lifecycle
Supply chain synergy in mergers and acquisitions
Businesses that are focused on manufacturing or distribution should pay careful attention to their supply chains, as they have an impact on every part of their business performance. As such, supply chain synergy in mergers and acquisitions involving these companies must be accounted for through detailed assessments and analysis before, during, and after the merger.
There are four major categories of synergies that result from a merger or acquisition, and the supply chain has a direct impact on all of them, as illustrated below.

Four major synergies resulting from a merger or acquisition and the supply chain impact
The new supply chain after a merger or acquisition
To make the most of the merged organization's supplier network, production footprint, and market presence, supply chain managers must reorganize and optimize their supply chains. This must be considered from the very beginning of the integration planning process.
As we have seen, the risk of failure in M&As is high, so to be successful and preserve customer value, companies must merge their supply chains by planning ahead and not leaving anything to chance.
A successfully implemented post-merger supply chain could also result in a significant reduction in supply chain costs.
The first step in mergers and acquisitions supply chain integration should be an assessment to understand the areas that can be merged and those that cannot. Those factors that are commonly considered include warehousing, logistics, systems integration, and end-to-end network design.
Supply chain network optimization using digital modeling tools to simulate multiple scenarios can be implemented to predict the operational performance of the merged organization.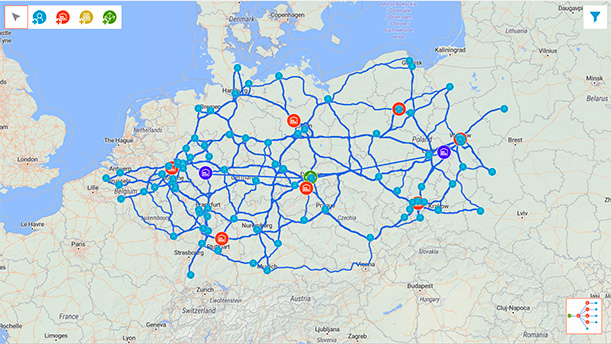 Supply chain network before and after optimization in anyLogistix software (click to enlarge)
A supply chain network model should be built that replicates the present state network and includes all the goods and parts, the supplier base, the manufacturing facilities, the warehouse and distribution facilities, and the logistics network. This model should include both companies involved in the merger or acquisition.
It is important to identify potential scenarios that, if implemented, would result in a major improvement in the supply chain network in terms of customer service and total supply chain expenses. For instance:
What happens to the overall cost when a company takes over another company's supply chain network?
When the supply base for similar items is consolidated, what effect does that have on supplier performance?
Can the business significantly raise service levels by keeping some of the acquired warehouses operating?
After validating scenario results, implementing changes to the network will be quite challenging, both from a process and physical integration standpoint. It is important to remember that mistakes can happen, but if you understand what they could be, you can look out for them.
Mistakes in supply chain mergers and acquisitions
Numerous and wide-ranging mistakes can happen, which can lead to the failure of a merger or acquisition. But if supply chain managers understand the most common mistakes, and how to deal with them, they can overcome them. The most common are illustrated below.
Some common mistakes include:
Employing incorrect metrics – consistent metrics across the supply chain's financial, supply, and delivery sectors must be developed.
Inadequate planning – integration, optimization, and approval must be prioritized to guarantee supply chain effectiveness post-merger.
Defining the goal, but not how to get there – without understanding the procedures to achieve the target, rash decisions can result, leading to many disruptions in the supply chain.
Overlooking the level of disruption – there will be some disruptions, but if the impacts on cost and revenue are not taken into account, there may be many more.
Trying to consolidate systems too soon – rather than combining the systems of the previous supply chains, it is better to create a single database that contains data from both supply chains.
Supply chain mergers and acquisitions moving forward
M&A transactions are an effective way to achieve more secure and resilient supply chains. They can improve the certainty of delivery, lower production costs, and boost profits.
Thanks to the COVID-19 pandemic and instability around the world, supply chains have grown in importance in business valuations. Many supply chains have struggled during this time, and they would represent a major risk in an M&A.
Therefore, looking ahead, companies must develop supply chains with more diversity in origin and different options, including varied shipping and transport methods. This will enable them to be competitive when it comes to their own business growth and potential mergers.
---
Learn more about supply chain modeling in anyLogistix in this webinar and how it can be used in supply chain optimization.